It was in that fount of Indian wisdom, that trove of its myriad myths and mysteries, Amar Chitra Katha, that I first encountered Ganpati Visarjan – the immersion of a Ganpati statue in the waters after the culmination of prayers.
The comic book I was reading was on Bal Gangadhar Tilak, a popular leader of the Indian freedom movement. It was Tilak who transformed the annual household celebration of Ganesh Chaturthi, the birthday of the elephant-headed Ganesh, into a public festival. He saw it as a way to unite Indians and mobilize them with nationalistic fervour needed to counter British rule. Subsequently, Ganpati, a popular pan-Indian deity, was transformed into the lavish spectacle of today: giant statues, massive puja pandals, processions of worshippers, and enthusiastic chants of Ganpati Bappa Moraya!
Much later, when I started work with Hindustan Unilever in Mumbai, I made my first acquaintance with the festival of Ganesh Chaturthi. As the sales manager in-charge of selling my company's sabun-tel – experiences which subsequently birthed my debut novel, Earning the Laundry Stripes – in the warrens and gullies of Mumbai, it was inevitable that late August I'd find myself in front of Lalbaugcha Raja. My Parel-Lalbaug Distributor was absolutely insistent that we seek the prayers of the "emperor of Lalbaug".
Imagine my relief when I found myself at the foot of a gigantic statue, craning my neck at a 12-foot plaster idol of the elephant-headed god, his right arm raised in benediction! Lalbaugcha Raja was apparently one of the oldest and most famous of Ganpati idols, created by the same family of sculptors, who were into their third generation now. When Amitabh Bachchan was ill, my Distributor informed in a convivial whisper, Jaya had come here to worship. He was referring, presumably, to the time when the superstar was seriously injured during the shooting of the film Coolie and hospitalized.
Thereafter, for the eight years I was in Mumbai I heard and read about other celebrities who ended up visiting Lalbaugcha Raja: Sachin Tendulkar, the Bachchans, Nana Patekar, Govinda…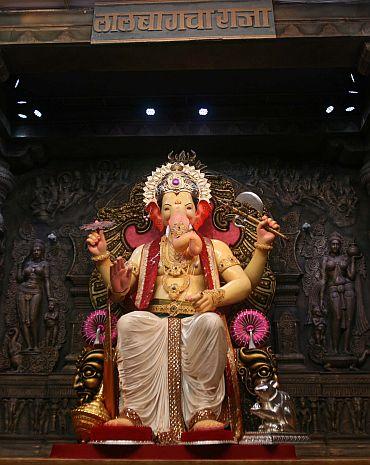 Well, that's good news, I think. I was in Mumbai during the time of the July blasts, having just left Dadar an hour before an explosion occurred. Anything that keeps people safe … And yet, I can't deny that niggling sad worm that says that perhaps we also need to remember the spirit in which Tilak first proposed we celebrate Ganesh Chaturthi: the spirit of belonging and togetherness.
Ganpati Bappa Moraya, Moraya Re! That is the chant most heard during this festive time. As my Maharashtrian friends and colleagues taught me, it is an exhortation to the beloved deity, Ganpati, our father, to return speedily next year!
Even as we work towards security, we need to revitalize that spirit of harmony between all of us to ensure that Lalbuagcha Raja, Mumbai and India stay safe, year after year.
And what better time to do that than now when we've just celebrated Eid and plunged into Chaturthi! On that note, a very happy Ganesh Chaturthi!