Just as the Iranian women's soccer team was to begin a crucial Olympic qualifying match against Jordan, the team was dismissed by officials of FIFA, the international football association. Their fault? Headscarves. Apparently the tight headscarves the women wore to cover their hair violated FIFA's dress code. The ban was for safety reasons, a FIFA official went on to claim. Sufficiently gobsmacked, are you?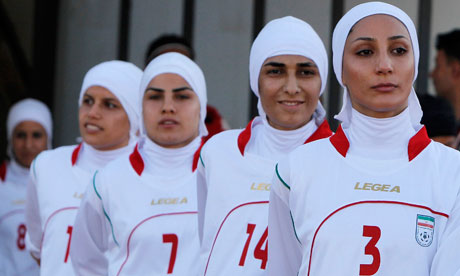 Women in Iran are mandated to cover their skin, almost entirely, and hair, in a strict interpretation of Shiite Islamic tenets. Consequently, female athletes have to adhere to this rule. Which they do. At the
11th Asian Karate Championship Games
Iranian Karatekas - complete in their headscarves - bagged 1 gold and 2 silver medals. Iranian women have done the country proud in the fields of Karate and volleyball, while being noticeably absent from sports such as gymnastics and swimming.
In a country where women are already under constraints, a ruling such as FIFA's ban throttles the ambitions of women athletes looking to compete internationally. Exactly what did FIFA have in mind? Some sort of comeuppance against Ahmadinejad?
In another recent bizarre event fresh rules were mandated for women badminton players. To create a more "attractive presentation", the Badminton World Federation has decreed that women
must wear skirts or dresses
to play at the elite level. Such a dress code would make female players more feminine and appealing to fans and corporate sponsors. Right!
Did I miss a dress code memo for male players to enhance their attractiveness quotient? Male players, it seems, are required only to dress in "proper attire". No decree on how to sex up the men? No specs on shortness of the shorts, or the amount of hirsuteness allowed on legs and forearms? Or, does BWF blithely assume that men don't need concern themselves with such frivolities? In their case, perhaps, fans come to watch pure, innate talent only?
Rangsikitpho, deputy president of BWF, has said that he is surprised at the criticism. "TV ratings are down. We want them to look nicer on the courts" and not compete in oversize shorts and long pants and appear "baggy, almost like men". Wonder if he ever thought of sharing his sartorial views with Kobe Bryant?
The fact that FIFA should be behaving like a sartorial bully would not come as a surprise when readers are reminded that its President, Sepp Blatter, septically blattered that women soccer players should wear
tighter shorts
to promote a "more female aesthetic". Holy guacamole!
Sepp dear, perhaps you would also consider handing a copy of Playboy with each ticket sold to a women's soccer match? Hotpants ain't going to come to your rescue, dinosaur. Go stand in one corner of the football field, and while you are there, cover your privates - some women players might just decide on goal practice.
Nevertheless, the moot point is that women's bodies and clothes are fair game for men to arbitrate and adjudicate over. The government of Nicholas Sarkozy banned hijabs on women in France. I blogged about it
here
.
While hijab is often viewed through the lens of repression, the fact is that it is often a function of upbringing, tradition, culture, and, further, can be a question of choice. My mother grew up on a farm in rural Punjab, went to a boarding school for girls with her six siblings, worked as a teacher and retired as a school Principal. She usually wears a salwar kameez with a chunni / dupatta thrown over the shoulders. This chunni serves to cover her head when the need arises - visiting a gurudwara, meeting an elderly (male) relative, protection against the sun. Her grandmother's chunni was a chador which she wore like a wrap, her mother's chunni always covered her head, her daughter's is usually thrown on one shoulder, her grand daughter's is worn in the fashion of a scarf - that is the evolving journey of the chunni. This evolution is also a testimony to the changing mores of society, each generation finessing that piece of garment.
However, if it was decreed that a chunni cannot serve to cover the head like a headscarf, my mother's heart would skip a beat. As would mine. In its multifarious self the chunni is linked to issues of propriety, comfort, styling choice, tradition. As is the veil, hijab, headscarf.
There is no denying that in several cultures women are forced to drown in billowing cloth cages with slits for eyes - that is repression, we all understand and denounce. However, the assumption that burqa / veil / chador equates repression is false.
Take the case of Hissa Hilal. As the
BBC reported
, from beneath a veil, the Saudi woman set her conservative Arab homeland alight. The journalist, wife and mother of four children competed in 2010 in the Arab version of American Idol - only here they compete to be the best poet in a reality television programme called The Million Poets. Dressed in a traditional abaya, with slits for eyes, she recited her poetry which condemned hard-line Muslim clerics calling them "vicious in voice, barbaric, angry and blind". Televised across the Arab world, Hissa's poetry touched a chord with the masses. Of course, there were those who voiced death threats against her.
In her interview with BBC Hissa explained the apparent contradiction between her advocacy of women's rights while wearing a full veil.
"Covering my face is not because I am afraid of people. We live in a tribal society and otherwise my husband, my brother will be criticised by other men."
While her poetry is intended for a wide audience, the act of covering herself, she says, is out of understanding for her male relatives.
"I know they love me and they support me. It's a big sacrifice for them in such a society to let me go to the TV and talk to the media. I am hoping my daughters won't have to cover their faces and they'll live a better life," she said.
If being fully clothed is a sign of repression then flipping the argument would suggest that scanty clothes aren't. Yet, women in the oldest profession wear revealing clothes to solicit clients. Are prostitutes not repressed?
The pressure to show skin is also a form of repression. In India the current craze to be seen in western dresses has sparked a contagion of otherwise sensible women choosing to dress against their body type. Since when has squeezing into a bandage dress become a symbol of freedom?
A Kiwi friend told me that when she moved from her home in New Zealand to work in neighbouring Australia she discovered that for a woman to be considered attractive, a show of cleavage was de rigeur. Having grown up on a farm in a gender-egalitarian society she was shocked. However, when in Rome do as the Romans, and she taught herself to lower the neckline inch by inch!
It sure is an upside down world when a woman can be faulted for both headscarf and hotpant, veil and cleavage. Take
your
pick woman - it is your blessed
choice
.