Apparently Bin Laden forbade music, television, refrigerator – considering he was looking to revert to and preserve a seventh century Caliphate, some empathy with the process of refrigeration would be normal, no? – air conditioning, toys … In her memoir,
Growing up Bin Laden
, his first wife says how "everything lively was banned".
Which brings to mind another bigot, the Mughal emperor Aurangzeb who on ascending the throne proceeded to ban music and dismiss court musicians. His reign was marked by constant warfare and upon his demise the kingdom unraveled. There are historians who claim that the ban on music was a factor that led to his downfall, the cultural repression exacerbating the rebellions against his rule.
On an aside, when planning Operation Geronimo, did the SEALs think of bombarding Bin Laden with a streaming video of 'Munni badnaam hui' – the emanating liveliness might just have proved catatonic …
Clearly, art and artistic endeavours are inimical to bigots/terrorists/fundoos. (For those readers unfamiliar with the word, fundoo is an Indian slang for anyone who holds rigidly fundamentalist views, regardless of their religious affiliation – the word is inherently secular!)
So the question naturally arises: why do fundoos hate art?
Can the answer lie in the examination of an artist's life? In order to glean the answer I turned to two artists I admire tremendously.
Michelangelo Buonarroti
(1475-1564) is widely regarded as one of the three Renaissance greats along with Leonardo and Raphael. If there's any doubt to his enduring legacy, one visit to the Vatican will put paid to any such misgivings. The main doorway of the Vatican Museums is surmounted by two statues of great artists in recognition of their contribution to the treasures of the Vatican. A young man holding a palette and brushes is Raphael and an elderly man with a sculptor's mallet in his hand is Michelangelo.
The Sistine Chapel ceiling painted by Michelangelo is one of the most renowned artworks of the Renaissance period. As is The Last Judgement, a fresco painted by him on the altar wall of the Sistine.
Biagio Martinelli da Cesena was the Pope's master of ceremonials. When Michelangelo was painting the Sistine Chapel wall Biagio criticised the nudes as immoral. Michelangelo, however, was magnifying the Creator's work by illustrating his finest creation, Man, in his pristine form. Besides, the fresco was depicting Resurrection of the dead, and surely, they would not arise from their tombs in clothes! Nonetheless, Biagio persisted with his criticisms. The fresco was nearing completion when Michelangelo was painting Minos, a mythical King at the entrance to Hell. Tired of Biagio's carping, he gave his profile to Minos, with two ass's ears and a serpent's head biting the poor man's private parts.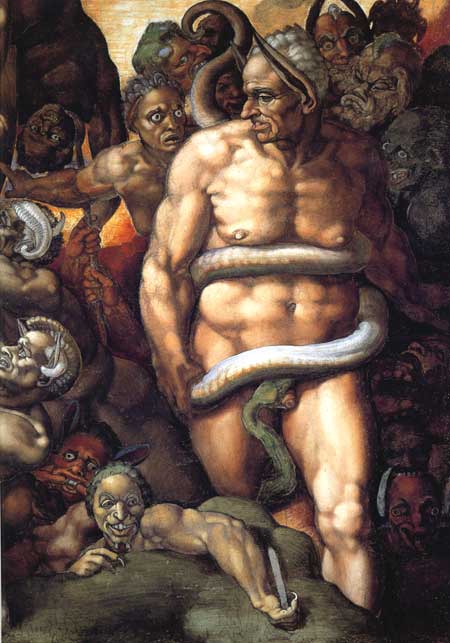 The
Last Judgement
was painted 500 years ago. Each year, millions of Vatican visitors gaze at the Sistine chapel wall. Both the painter and his critic are long dead but Biagio da Cesena has remained forever the guardian of Hell, and an enduring gag on the Vatican gig!
Many people became aware of Baba Bulleh Shah when Rabbi Shergill shot to the top of music charts with his rendition of 'Bullah kee jaana main kaun'. Baba Bulleh Shah (1680-1757) lived in Punjab at a time of communal strife. Bulleh Shah was a humanist, a Sufi poet and philosopher who used a verse form called Kafi, a style of poetry popular with Sufi and Punjabi poets. His poetry uses
metaphors from daily life to addresses issues of religious orthodoxy, spiritual journey, and the nature of man.
When he died his body lay unburied for several days since no cleric was willing to perform the burial rites of a heretic. Fast forward to today and earlier in the year a similar situation was observed when Salman Taseer was shot dead by his bodyguard and leading imams in Pakistan refused to lead funeral prayers for the assassinated Governor. I blogged about it here.
Bulleh Shah the iconoclast is dead, his critics in contemporary avatar can be found amongst the modern-day fundoos and yet his Kafi has such resonance with people that his songs top the charts frequently in South Asia. He is sung by street singers as well as fusion rock bands. Bollywood finds inspiration in his Kafi: Chaiya Chaiya, the chartbuster from Dil Se, takes off from Tere Ishq Nachaya Kar Ke Thaiya Thaiya …
Your love made me dance like crazy
was like taking a sip of poison …
If you are new to Bulleh Shah, I'd suggest listening to this rendition by Abida Parveen. Don't attempt to comprehend. Find a comfy spot, sit back and let the notes wash over you – the Kaafi shall reveal its magic to you, I promise.
The great thing about art is that it influences us without our being aware of it –And thereafter we carry it around as an imperceptible part of ourselves. That is the enduring legacy of art.
It is said that Hitler was very keen to be a painter. However the portfolio he submitted to the prestigious Vienna Academy of Fine Arts failed to get him admission. He became a drifter in Vienna where anti-Semitism was to slowly emerge as the core of his world view.
Moral of the story: don't mess with an artist!
So, is there a piece of art that moved you, made you pause and ponder, made you lose count of time? One that you carried back with you, and that breathes with you? Tell me about it.
As for me, I shall go listen to Abida sing Tere ishq nachaye and dance like crazy!